TRACK
TITLE

WRITTEN BY

A01
Busses From Heaven

HANRAHAN Kip


HERNANDEZ Horacio El Negro
SWALLOW Steve

A02
Real Time And Beautiful Scars

HANRAHAN Kip


NOCENTELLI Leo
ROSS brandon
A03
The Girl Who Won't Resolve

HANRAHAN Kip

A04
Caravaggio / A Quick Balance

HANRAHAN Kip


SWALLOW Steve
A05
Night Cumbia

HANRAHAN Kip


SWALLOW Steve
A06
One Summer Afternoon (For Gil Evans)

HANRAHAN Kip


ROSS brandon
SWALLOW Steve
A07
Xiomara Wears The Heat Beautifully

HANRAHAN Kip


SWALLOW Steve
A08
Paris Through Tears

HANRAHAN Kip


SWALLOW Steve
A09
Montana
CARDONA Milton


HANRAHAN Kip


JACKSON DD

A10
Leijia Heads To Brooklyn

HANRAHAN Kip

A11
Milton Cardona

HANRAHAN Kip

A12
Salt In The Mozambique Night (Glasgow For Jack Bruce)

HANRAHAN Kip


PIETRO Dafnis
A13
Rumba Of Cities

HANRAHAN Kip


MARTINEZ Pedro
A14
The Accountant Of Morning

HANRAHAN Kip


SWALLOW Steve
A15
Winterscape With IMF

HANRAHAN Kip

A16
City Of Gold (Palestine Blues)
BRUCE Jack


HANRAHAN Kip



JAZZMAN REVIEW WRITTEN BY JONATHAN DUCLOS ARKILOVITCH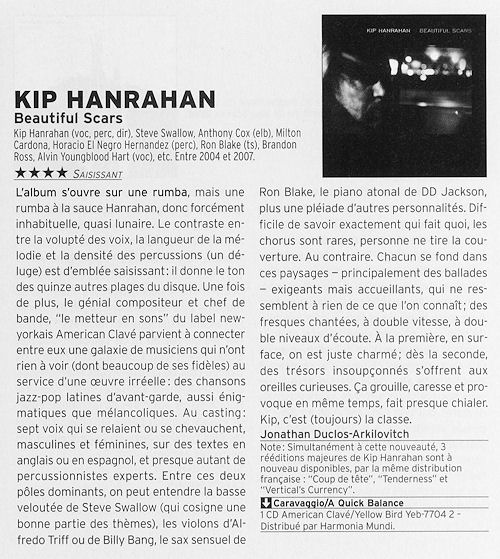 BBC REVIEW WRITTEN BY PAUL BENNUM
Hanrahan's latest exercise in Rumba-flavoured jazz excellence leaves our writer... You can't write about this astonishing record without writing from within its world. Great music demands that, even if the task is impossible. Milton Cordona - one of the world's best percussionists - is on this record. So above, so below: just as with Cardona, when you think you understand this music you quickly find that you don't. The more you listen the more simple songs become complex, and vice versa. So it's the classic creeper. It starts out compelling; demanding repeated listening but frankly difficult. No… not-easy. Before you know it it's joined the canon of your favourite unkillable music. I'd have the implant. So how does it, you know, sound? The art department of New York, Cuba and New Orleans, via Glasgow, Essouira and Palestine. Somewhere hot, that still understands the Northern winter. If you like jazz you'll understand the idiom - and if you like the best electronic music you'll also understand the idiom even though there's no obvious electronics. Rumba, not as a tourist attraction, but as a way of communicating with your city-bound brothers and sisters and your millennia-dead ancestors. Beautiful Scars is also a very, very sexy record. To engage Kip-speak, what I mean is: it's not bedroom music or an aide de seduction... Actually one can't - on the BBC website - describe the specific tastes, pressure, use of tongues and the subsequent intrinsic angers, joys, regrets and delusions derived, which this record cannot help but embody. This is exactly what the record is about.That, and politics. The politics of global capital and exploitation. Not in your face, but because that's what the world itself is about and only a miniscule amount of musicians take it on. I mean, really take it on. Aficionados of Hanrahan's music will recognise this; even they will be surprised at how good this music is. You ask: how can this be so fresh? How can it make you see the world as if through the jangled, elated-but-weepy psyche of a world-class hangover, or PMT on the perfect summer's day? As the record says, a day when everything is in its perfect place but bosses still screw their subordinates and lovers go home unfulfilled? Tangled. Difficult. Exquisitely beautiful.
LES INROCKS REVIEW BY ROMAIN GROSMAN
Le nouvel assemblage magique d'un grand illusionniste de la musique d'aujourd'hui. A la manière d'un directeur d'acteurs, Kip Hanrahan réunit et coalise les talents de musiciens d'horizons très divers. Lorsqu'il emmenait avec lui les protagonistes de ses albums en tournée, Kip Hanrahan se postait sur le côté de la scène, donnait ses instructions dans une geste théâtrale qui ne semblait pas trop troubler les musiciens, mais intriguait le public. Kip Hanrahan est un homme de casting qui fait se rencontrer plusieurs Amériques. On a vu par le passé Jimmy Scott (alors oublié) se fondre sur scène dans ses collectifs protéiformes. Le soulman Bobby Womack, Allen Toussaint, le bluesman Taj Mahal, les jazzmen Don Pullen, David Murray et de nombreux musiciens dans le style afro-cubain ont tour à tour porté leur touche et leur identité à ses projets. Ces derniers sont majoritaires dans ce nouvel opus : Milton Cardona, Horacio El Negro Hernandez, Robby Ameen côtoient les guitaristes Brandon Ross (Cassandra Wilson), Leo Nocentelli (The Meters), le bassiste Steve Swallow, le barde Alvin Youngblood Hart ou le saxophoniste Ron Blake. Des voix sont aussi sollicitées. L'addition de ces histoires, de ces expressions, pourrait accoucher d'un maëlstrom musical improbable, mais prend sens sous la houlette de ce personnage ouvert et ambitieux. Mélodie chantée sur des lignes de piano désaxées, percussions qui tanguent sous des mélopées et tangos doux-amers : les thèmes balancent entre mélancolie et engagement sur une toile musicale où domine malgré tout un certain désenchantement. Sorte d'atelier éphémère qui rend possible les expériences inédites où la liberté des uns embrasse celle des autres, le collectif drivé par Kip Hanrahan (sur son label American Clavé) privilégie ici une douceur diaphane, saisit des petits bouts d'éclaircies fugaces. Tantôt experte, tantôt simple et charnelle, l'œuvre de ces artistes est un petit miracle encouragé depuis vingt-cinq ans par ce natif du Bronx (trois rééditions de projets majeurs du même
auteur sont à nouveau publiées – ndlr).